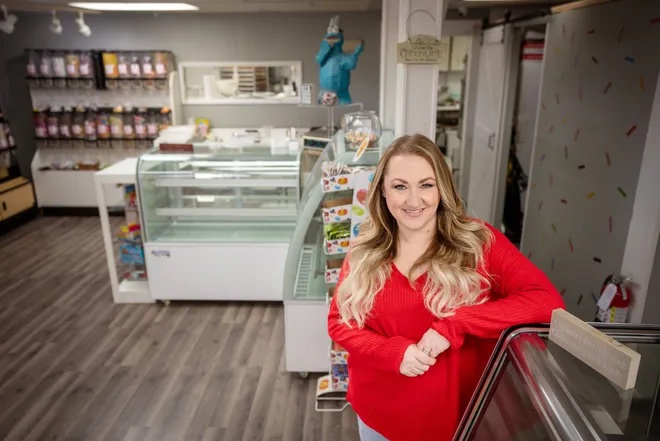 Welcome to Nan's Nummies, Our store of 35 years is now under the ownership of Crystal McLemore!
Crystal, a passionate baker and long-time employee of Nan's, took the reins of this beloved candy shop in April 2023. Building upon Nan's legacy, Crystal is committed to preserving the essence of Nan's Nummies while infusing her own touch of creativity and innovation. 
At Nan's Nummies, we believe that indulging in delicious treats is an experience that should be cherished. With a dedication to the art of confectionery, Crystal is determined to continue delighting our valued customers with the same exceptional quality and flavors that have made Nan's a staple in the Historic Valley Junction neighborhood. 
Nan's Nummies has a long-standing tradition of handcrafting delectable delights, and Crystal fully embraces this approach. Using the original 35-year-old recipe for success, we take pride in creating our treats from scratch because there's simply no better way. From our almond cream cookies and classic homemade fudge to our frosted cookies, Dutch letters, and an array of candies, we offer a wide variety of sweets to satisfy every craving. 
While honoring Nan's traditional menu items that have garnered a loyal following, Crystal also plans to introduce her own creative additions. Indulge in our mouthwatering custom cakes, custom cupcakes, and custom cookies for any occasion. Crafted with meticulous attention to detail, our custom cakes are tailored to your unique vision, making them the centerpiece of your celebrations. Our custom cupcakes are the perfect bite-sized treats, available in a variety of flavors and designs. Additionally, Crystal's expertise extends to creating beautifully designed and custom-decorated cookies that are sure to impress. 
In addition to our existing chocolates, cookies, bulk candies, Dutch letters, saltwater taffy, and fudge, Nan's Nummies now proudly offers a range of specialty treats. Whether you're celebrating a birthday, wedding, or any other special event, our custom cakes and cupcakes will add a touch of sweetness and elegance to your festivities. Crystal's artistic flair shines through in every creation, ensuring that your custom order is a true reflection of your vision. 
At Nan's Nummies, we value our customers and strive to provide an exceptional experience with every visit. Crystal's dedication to quality and customer satisfaction is evident in every treat that leaves our shop. We invite you to savor the irresistible flavors of Nan's homemade creations, made with love and care. 
Under Crystal's ownership, Nan's Nummies continues to be a place where culinary artistry and sweet delights converge. Join us in celebrating the legacy of Nan's while embracing the exciting new chapter that Crystal brings to this cherished candy shop. Visit us today and experience the joy of Nan's Nummies for yourself, whether you're in the mood for our classic treats or seeking custom cakes, custom cupcakes, or custom cookies for your special occasion. 
Your Sweet Tooth's Dream Destination!